The Invisible Man
The Invisible Man slot game. A Netent production. Property of Universal studios,
We had a lot of fun with the production of the intro. I did the compositing (with some additional help from Anders Lokrants that created that nice edge fx when dissaperaing the arm and the eye). Johannes Perol and David Lundmark provided me with nicely painted illustrations/matte paintings in which I then projection mapped on 3D geometry modeled in Maya. Everything then composited together in After Effects. Besides the compositing and lighting I also modeled everything besides the hair for the character which was done by Ola Sundberg. Some texturing on the arms also done by Anders Lokrants. Character animation by Samuel Peter.
Freespins intro with snow (didn't make it into the game)
Police spins animation design
I also did the motion design for the burning wild symbols, the lighting/rendering and compositing of the characters in the game as well as the fire in the bakground (using Maya fluids system). Ola Sundberg sculpted the digital model of the police, I did the retopology, UV mapping texturing and shading for him. Besides the visual challenge of many game modes and a dissapearing invisible character the team also had the challenge of creating Netent's first HTML 5 game. 
Art director:
Jenny Hellström
3D & compositing:
Mike Lundahl (with additional help from Ola Sundberg & Anders Lokrants)
Motion design for game and symbols:
Mike Lundahl, Samuel Peter
Character rigging & animation :
Samuel Peter, Tony Österlund
2D concept art & Illustration:
Johannes Perols, David Lundmark
Griffin

, being the main character in the game we knew he would be seen a lot. Not only in the game but also in future promotional material. So we put a lot of effort in creating hi res textures, proper topology. Even though I was the main 3D artist working on him, Ola Sundberg stepped in to help out when I was away. He modeled the gloves, shoes and bandage while I did the rest.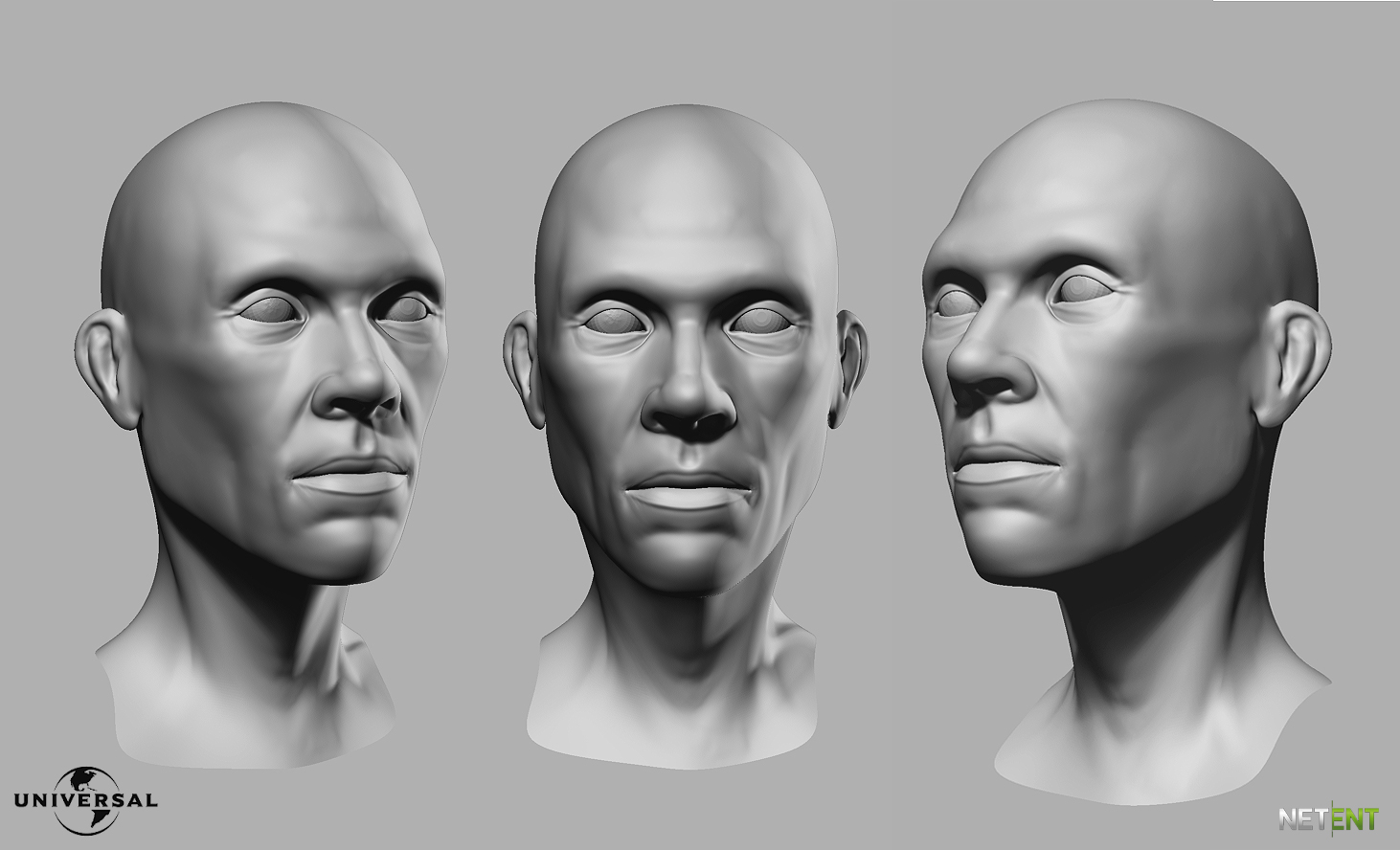 Griffin digital head sculpture.

Being completely invisible during the game we came up with a story that showed what happened when he got to that stage in the intro. This required a new head to be created just for the intro which was done by me.